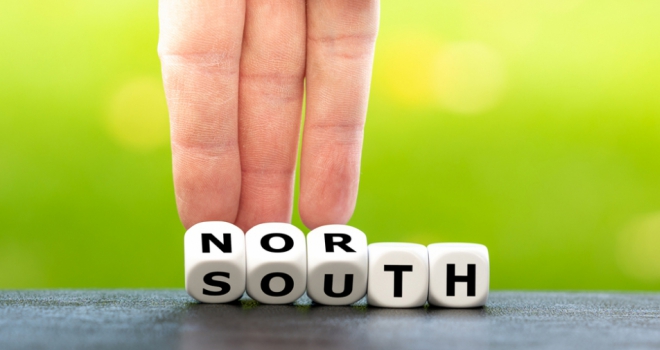 North vs South. A war that has raged for years including battles over everything from who has the best football teams (North), to if you should have gravy on your chips (you absolutely should).
New research from estate and lettings agent, Barrows and Forrester, takes the latest north vs south battle to Birmingham, dissecting the city down the middle to find what the North-South property divide currently looks like.
According to the data, when it comes to the Birmingham North-South divide, the North wins (Whoo-hoo!) when it comes to overall property affordability. The research shows that house prices in local authorities to the north average £194,227, while areas in the south command £209,428 – 8% more.
In fact, all but one local authority in the south is home to an average house price of more than £200,000.
Edgbaston is home to the highest house prices in the south of Birmingham, coming in at £233,736. Selly Oak also ranks high at £227,911, followed by Hall Green (£213,028) and Northfield (£200,456).
Yardly is the only area to the south of Birmingham boasting a more affordable property market, with the average house price currently sitting at £177,102.
In contrast, just one local authority to the north of Birmingham is home to an average house price above £200,000.
Hodge Hill is the most affordable of the lot at £162,579, with Perry Barr (£164,047), Ladywood (£166,796) and Erdington (£171,686) also coming in below that of any area to the south of Birmingham.
However, at £361,906, Sutton Coldfield is by far the most expensive area of the Birmingham housing market and the only area to buck the wider trend of affordability found in the north of Birmingham.
James Forrester, Managing Director of Birmingham estate agent Barrows and Forrester, commented: "There is quite a noticeable North-South divide where the Birmingham property market is concerned, with the southern half boasting considerably higher house prices. However, there remain good pockets of affordability both centrally and to the north of the city centre and with such extensive regeneration plans underway, these areas are only likely to grow in value.
"We're already seeing high demand from buyers across these areas and even further afield, which was the primary reason we opened our Lichfield branch and this ongoing buyer interest is only going to strengthen the market across Birmingham and the surrounding areas."
Jemma Harrison, Branch Manager of Barrows and Forrester's Lichfield branch, commented: "Sutton Coldfield is one of the more desirable areas in the north of Birmingham but house prices have climbed incredibly high and so many buyers are looking for that next best option. While it falls outside the Birmingham boundary, Lichfield has become that option for many, as the more affordable market allows them to buy bigger, but while remaining within reach of Birmingham."